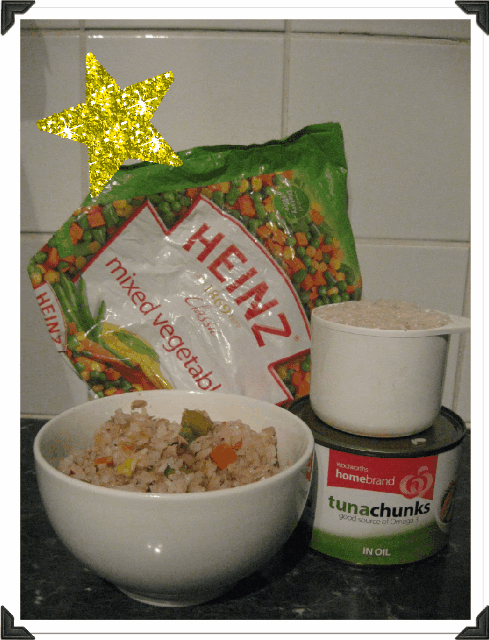 It was eight o'clock in the evening and we were both deeply involved with work when we realized, suddenly, that we were starving.  I looked in the cabinets feeling extremely unmotivated to play domestic goddess and decided to toss some ingredients in a pot and call it dinner (or tea as they say down here :p) 
Surprisingly, it turned out delicious, was extremely quick and easy and made almost no clean up.  This is now, officially, a staple meal.  Quicker, easier and less clean up than take out.  That gets a gold star in my book!
And here's what I did:
What You Need
1 cup jasmine rice
1 can tuna
1 cup frozen vegetables
Directions
Open your can of tuna, and then drain it into a measuring cup.  Fill the cup with water until you have two cups of liquid altogether.  Toss that, your rice, frozen vegetables and tuna into a pot, cover it and turn it on high.  When it starts to boil, turn it to low and set the timer for 15 minutes.  When the timer goes off, take the lid off, fluff up your rice and then let it sit and steam for a few minutes while you get out your bowls.
Dinner is served.